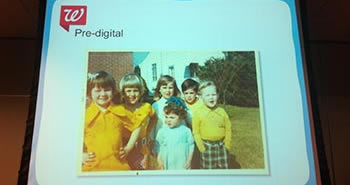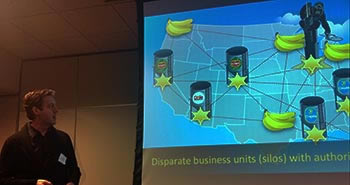 Agenda
9:00 AM

Registration and Breakfast

9:45 AM

Keynote: Mobile & UX: Inside the Eye of the Perfect Storm With Jared Spool, User Interface Engineering

Keynote: Mobile & UX: Inside the Eye of the Perfect Storm

Jared Spool started off the day sharing valuable research and insights on the effect mobile has with the user experience.

About Jared Spool

Jared Spool took UX to a new level in 1988 when he launched UIE. And by, "to a new level," we mean "validated UX as a vital component of our work, then spent the next 25 years conducting research and writing tirelessly to keep validating it."

Jared often can be found onstage, where he captivates crowds with stunning data that reveal how UX can affect a company's bottom line. He's helped thousands of companies worldwide to increase their profits, identify interaction failures, and integrate UX research and design into their product development cycles.

10:45 AM

11:00 AM

Simplifying Massive Changes with a Live Style Guide With Mark Meeker, Orbitz

Simplifying Massive Changes with a Live Style Guide

About Mark Meeker

Mark is Principal UI Engineer for Orbitz Worldwide. At Orbitz, he leads the development of the presentation layer for their family of travel websites around the globe. He focuses on building interactive and usable interfaces which follow web standards and are accessible. He is a client-side developer at heart, but spends a lot of his time finding better ways for front-end code and UX to play well in large web applications and the teams that build them.

11:30 AM

The Touchable Desktop – When Responsive Won't Fly With Will Hacker, Cars.com

About Will Hacker

Will Hacker is a User Experience Architect at Cars.com, where he focuses on UX design and usability for the mobile web. His background includes user experience design for B2C and B2B ecommerce websites and financial services web products. Will also has written about mobile design topics for Smashing Magazine.

12:00 PM

Designing Mobile Apps for Enterprise Use With Jeff Steffgen, SuperConnect

About Jeff Steffgen

Jeff Steffgen is the User Experience & Design Director at SuperConnect, a Chicago-based software start-up. He has been involved with technology companies in the Chicagoland area for almost 15 years, and is currently focused on mobile user experience design for enterprise and cloud-based applications. Jeff has extensive experience in leading design strategies for various mobile platforms such as iOS, Android, and most recently, Windows Phone 8. His agile design methodologies use a balance of information architecture, usability research, and both interaction and visual design to create user-centered solutions that simply work.

12:30 PM

1:30 PM

Researching With A Team That's New To Research With Russ Unger, GE Capital

About Russ Unger

Russ Unger is a User Experience professional in the Chicago area and is a Senior UX Leader for GE Capital. He is co-author of the book "A Project Guide to UX Design" for Peachpit Press (Voices That Matter) and is co-authoring the book "Designing the Conversation" with Dan Willis and Brad Nunnally, due out in early 2013, as well as book on guerrilla research methods with Todd Zaki Warfel due out… well, sometime. Russ is also on the Advisory Board for the Department of Web Design and Development at Harrington College of Design.

2:00 PM

Redesigning The Redesign Process With Shay Howe

About Shay Howe

As a designer and user interface engineer, Shay Howe has a passion for solving problems while building creative and intuitive products. Currently working for Groupon, Shay specializes in user interface design and development. Additionally, Shay teaches a front-end design and development class at the Starter League and helps co-organize Refresh Chicago and UX Happy Hour.

2:30 PM

Walgreens Photo Goes Beyond MultiChannel With John Yesko, Walgreens

About John Yesko

John Yesko is Director of User Experience at Walgreens E-Commerce in Chicago. He is responsible for the customer experience at the company's websites (Walgreens.com, drugstore.com and Beauty.com), as well as in-store interfaces and mobile applications. He manages a 20-person User Experience group, leading information architecture/taxonomy, interaction design, and user research.

Prior to Walgreens, John worked in UX leadership positions at a number of consultancies, including Roundarch, Fry, and closerlook. He put his stamp on websites for many leading brands, such as Aon, Eddie Bauer, Motorola, and Sears.

3:00 PM

3:15 PM

Keynote: Micromoments: Tiny Interactions With Big Payoffs With Stephen Anderson, PoetPainter, LLC

About Stephen Anderson

Stephen P. Anderson is a speaker and consultant based out of Dallas, TX. He offers product strategy and design expertise to help large companies create valuable customer experiences. He also spends unhealthy amounts of time thinking about design, psychology and leading intrapreneurial teams - topics he frequently speaks about at national and international events.

Stephen's publications include the Mental Notes card deck, a tool to help businesses use psychology to design better experiences and his book Seductive Interaction Design where he explores this topic of psychology and design in more detail.